M10 34mm Scope Ring
Regular price $179.00 SALE
American Rifle Company's M10 Rings represent the standard against which other rings are measured.

Scope ring height is from optical center line to top of rail.

Each ring is 21mm (0.83") in width.

A set of 34mm diameter, 28mm height rings weighs 6oz.  Weight varies by diameter and height.  

Designed to fit Picatinny (MIL-STD-1913) rails.  

Proudly engineered and manufactured in the USA.



Even under the heaviest recoil, M10 Rings hold firmly without marring or indenting the scope. These uniquely split rings maintain reticle alignment during scope installation while their low profile leaves the shooter with a clear view of the turrets.

M10 Rings feature a crowned-rail interface which precisely and correctly engaged rails, even those which fail to meet Mil and STANAG specification. The result is excellent return-to-zero performance.

Extremely strong and light-weight, M10 Rings are CNC machined from 7075 aluminum alloy and anodized with a mil-spec hard coat for excellent corrosion resistance and a matte-black finish.

Stainless steel hardware is used throughout and includes a high strength 410 stainless cross bolt.

The 21mm (0.83″) width and single recoil slot engagement offers more eye-relief adjustment than our previous models.

Recommended torque for both rail clamp and scope clamp screws is 5.6-6.2 Nm (50-55 in-lbs).

Step 1: Stack pennies on top of scope mounting rail.

Step 2: Set and hold scope on pennies.  Adjust number of pennies until scope is at desired height with adequate clearance to barrel.

Step 3: If you use scope caps, test fit with scope caps.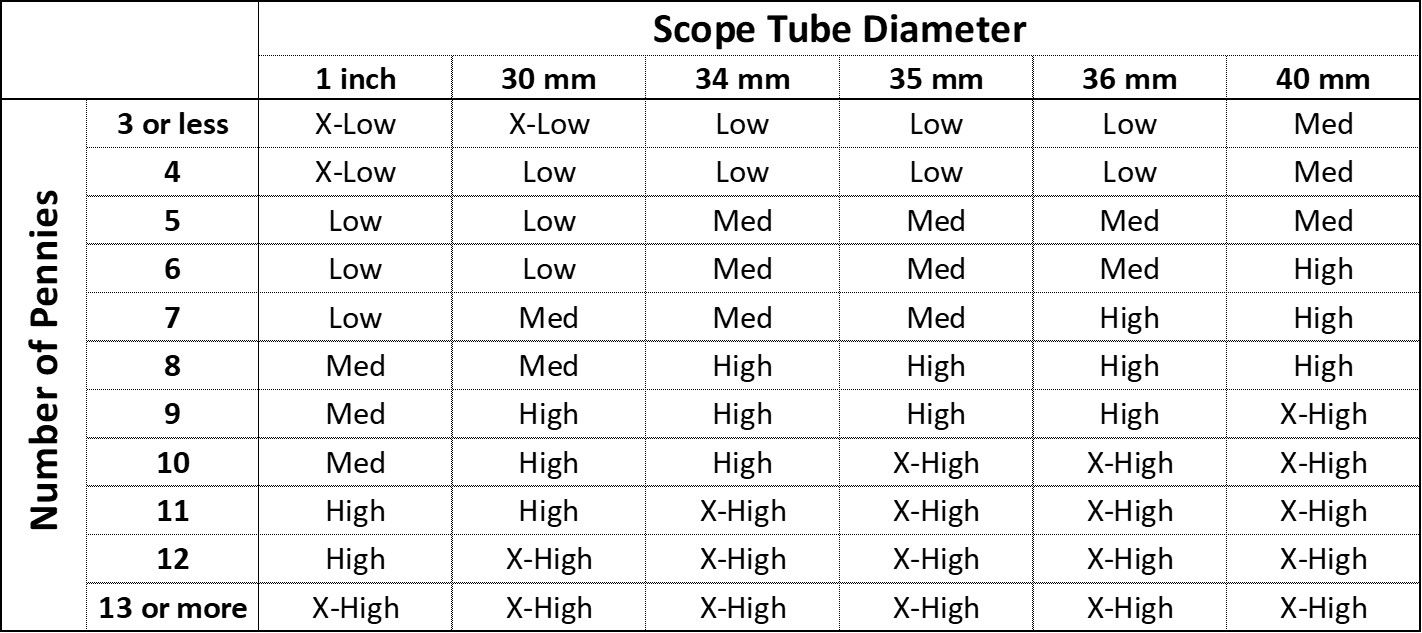 Step 4:
Count the number of pennies in each individual stack.
Find the intersection of the scope diameter and the number of pennies (Number in each stack).  This is the recommended height.